FSA Vision Team 25 Clincher 20/24 Wheelset
The Team 25 is the new Vision entry level wheel set offering a versatile and high-quality product. This is the perfect aerodynamic wheelset for training and all day rides on account of it's 24.3 mm tall aluminium clincher rims. Featuring cnc machined braking surfaces for high strength and braking performance. Equipped with sealed cartridge bearings (2 FW + 2 RW) the CNC-machined hubs allow a smooth running.
It's classic shape is optimal suited for J-bend spokes. Self-locking ABS brass nipples offer a solid connection between the forged bladed Sapim spokes and the rim. The delivery includes two top quality Mercury aluminium quick releases. Rim width: 20.1 mm. Finish rims: black anodized, hubs: CNC-machined and black anodized, spokes: black.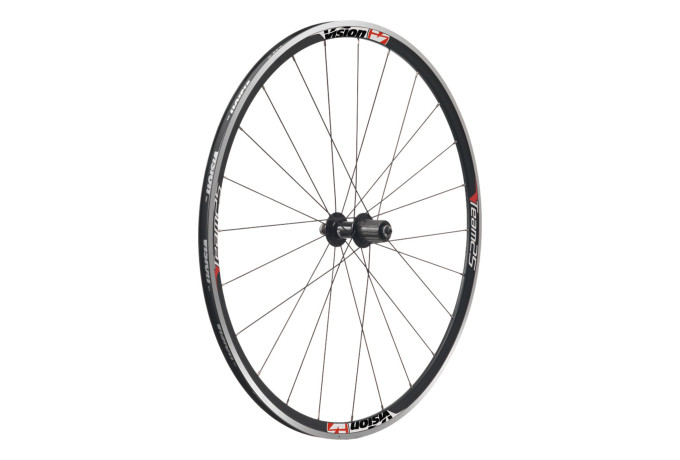 Return Policy
At GearTree, we wish you to be 100% satisfied with your shopping experience and your gear. If you aren't satisfied with your purchase, we allow you the option to return most eBay auction items for refund or exchange within 30 days of purchase.
In the event that an item is damaged or defective, we will be able to provide a prepaid Electronic Return Label to enable return. If the item is returned for any reason other than damage or defect, return shipping and initial shipping costs (given at time of request) will be applied. Refunds on auctions are subject to a 15% restocking fee. In certain instances, where an item shows wear or product packaging is missing or destroyed, a restocking fee may be applied.
When returning a product, please follow the return instructions we provide you with carefully to help avoid restocking fees. Used gear and other items aren't returnable for health, copyright or other reasons. Returns will have to include all original items and packaging.
Call us at 800-705-7095 if you want further assistance.
State sales tax will apply on all orders shipping to MI only.
Interested in Great Deals?
Sign up for the GearTree Deals & News email newsletter. You'll receive occasional emails regarding special insider product deals and industry news. Go to geartree.com and hit "Sign up for Newsletter" at the righthand side of the blue taskbar.